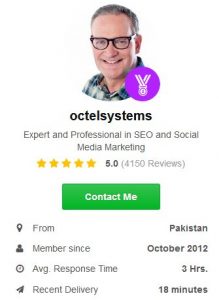 Es gab in letzter Zeit kaum Einträge, was daran liegt, dass es einfach nur noch beschämend und traurig ist, wieviele Cheater sich bei Fiverr inzwischen herumtreiben und Schrottleistungen im großen Stil anbieten. Aktuell ist der Cheater
octelsystems aus Pakistan
Warning: Cheater !
Er bietet an, ein Video unter 75 Subdomaine einzubinden, für ein besseres Listing bei den Suchmaschinen.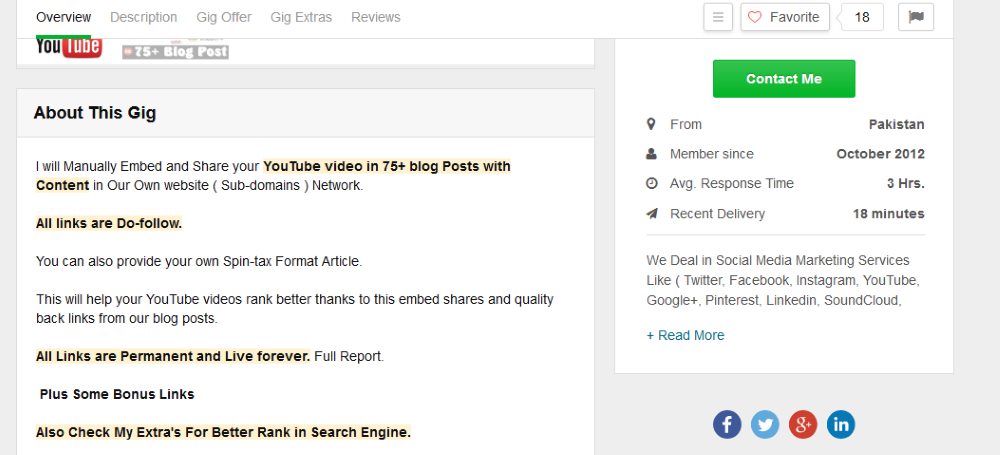 Das Photo:
https://fiverr-res.cloudinary.com/t_profile_original,q_auto,f_auto/profile/photos/1249127/original/Mike_Smith.jpg
bezeichnet mit Mike Smith, ja so sieht er aus – ein Engländer in Pakistan – hahaha – eigentlich hätte mich das schon stutzig machen müssen, aber die Geschichte geht noch weiter!
Nach wenigen Tagen meldet der Betrüger den Vollzug seiner mühevollen Arbeit:
octelsystems
Hi, Thanks a lot for choosing us. Here is your completed work report.
Any ERROR in my work Feel free to write us all Questions before "Review".
Also if it's not hard please provide little positive feedback and rate our gig. That is very important for us. Thank you
Visit Our Profile Page —– https://www.fiverr.com/octelsystems or Send Us custom offers what you want.
** Also Check Our Great Packages and Services – Each Service in $5**
8000 Youtube Views
500 Youtube Likes
500 Youtube Dislikes
75 Youtube Subscribers 15 Days Gurantee
1000 Youtube Share
50 Youtube Custom Comments
1000 Facebook Page Likes
5000 Facebook Photo/Post Likes
100 Facebook 5 Star Rating
15000 Facebook Video Views
1000 Facebook Followers
4000 Facebook Emoticons Post Likes [ Love ][ Haha ][ Wow ][ Sad ][ Angry ]
100 Facebook Custom Comments
500 Facebook Website Likes
1000 Facebook Comment Likes
2000 Facebook Share [ Page Only ]
250 Facebook Website Share
500 Facebook Event Join/Confirmed
500 Facebook Event Interested
75 Facebook Friends On Personal Profile
1000 Instagram Followers
4000 Instagram Likes
15000 Instagram Views
1000 Instagram Story Views
150 Instagram Live Video Views
700 Instagram Impression
100 Instagram Custom Comments
50 Instagram Random Comments With Emotions
3000 Twitter Followers
2000 Twitter Retweets
2000 Twitter Favorites
1000 Twitter Video Views
1000 Twitter Impression
100 Google Plus Followers / Circle
100 Google Plus Likes
100 Google Plus Share
150 Pinterest Followers
700 Pinterest Likes
150 Pinterest Repin
150 Linkedin Followers
25 Linkedin Endorsements
25 Linkedin Connections
75 Snapchat Followers
20 Snapchat Followers Arab
2000 Vimeo Views High Retation
100 VK Post Photo Likes
60 VK Add Friends
60 VK Group Followers
15000 Soundcloud Plays
10000 Soundcloud Downloads
500 Soundcloud Followers
500 Soundcloud Likes
100 Soundcloud Reposts
200 Soundcloud Comments
3000 Vine Followers
3000 Vine Likes
3000 Vine Loops
3000 Vine Reposts
3000 Vine Revines
3000 Vine Views
30 Vine Comments
500 Spotify Followers
500 Datpiff Views
150 Datpiff Downloads
250 Datpiff Streams
500 Kiwi Followers
500 Kiwi Likes
500 Flipagram Followers
500 Flipagram Likes
500 Flipagram Reflips
500 Periscope Followers
300 Fyuse Followers
300 Fyuse Likes
75 Fyuse Echo
15 Fyuse Comments
40000 Real Website Traffic ***(Also Offer Keyword Targeted Google Organic Traffic, Country Targets Traffic)
Und wenn ich sage, "Betrug im großen Stil" dann deshalb, wenn man sieht, was er sonst noch alles versucht zu verbocken und zu verhökern!
Doch wie endet die leidvolle Geschichte um den Betrüger – Cheater octelsystems aus Pakistan nun?
Er postet ALLES unter 75 Subdomains mit nur einer einzigen Hauptdomain. Das ist wahrlich nicht professionell, das ist stümperhaft, das ist SEO Arbeit wie vor 15 Jahren! Aber noch besser, nach nur 3 Tagen sind alle Blogs weg – das nennt man dann technisches Versagen oder hat ein Kooperationspartner sein Geld nicht bekommen und die Reissleine gezogen? Jedenfalls der totale Betrug – keine nachhaltige brauchbare Leistung, aber angeben wie ein Profi – nein, so geht es nicht, das ist eindeutig Betrug durch octelsystems aus Pakistan!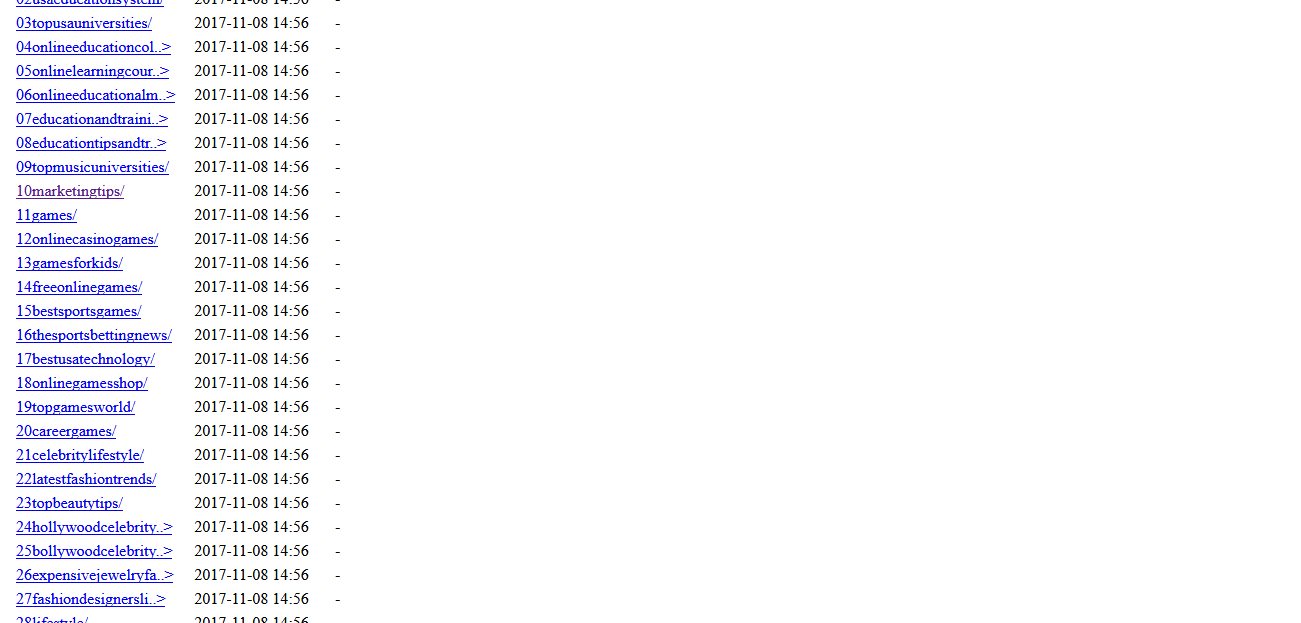 Abbildung: beim Aufruf subdomain.domain.unterseite 404 und auf subdomain Ebene ein Webverzeichnis ohne Inhalte – alles verschwunden! –
Finger weg, von den Angeboten von Octelsystems, die sind keinen Cent wert!
75 Subdomaine unter nur einer Domain
75 x gleicher Text
keine Indexierung
und nach 3 Tagen alles weg!