Nur durchschnittliche Erfahrungen mit Photomodel Vivivg

Sieht ja ganz nett aus, das Mädel, denkt man, wenn man die Fiverr Gig Seite ansieht:

Der (verkürzte) Angebotstext für dieses Fiverr-Gig:
I'm going to promote your business, website, or write any message you want!

High quality photo
Full of creativity
Outdoor or in a single fund

5 beautiful photos, so you can choose your favorite.
Voller Kreativität, das klingt ganz gut – also wird flugs der Auftrag erteilt:
Model and hold your sign
Seller: vivivg
Order: #FO7612C24BC3
March 11, 2016
Requirements / Anforderung:
Hello Vivi,

please HD photos with a nice smile and the sign "samweber.xyz" (please red color) – perhaps also in horizontal format.

Thank you!

samy
Notiz:
Bestellung für den samweber.xyz Nachrichtenblog
Ergebnis – Review:
eine gerade durchschnittliche Leistung, mehr leider nicht. Die Bitte um Nachbesserung wurde zwar zugesagt, aber bis dato nicht erfüllt. Maximal 2 von 5 Fiverr Sternen ** – mehr ist die Leistung nicht wert! Die nachstehende Arbeitsprobe zeigt, wo es hapert; die Aufnahmen wirken billig und das Model ungepflegt, im Vergleich zu den Profifotos auf der Gig-Seite. Der Hintergrund – ein Holzverschlag – ist einfach niveaulos! Er wurde konkret beanstandet; die zugesagte Änderung wurde – wie bereits erwähnt – nicht geliefert.
Arbeitsprobe: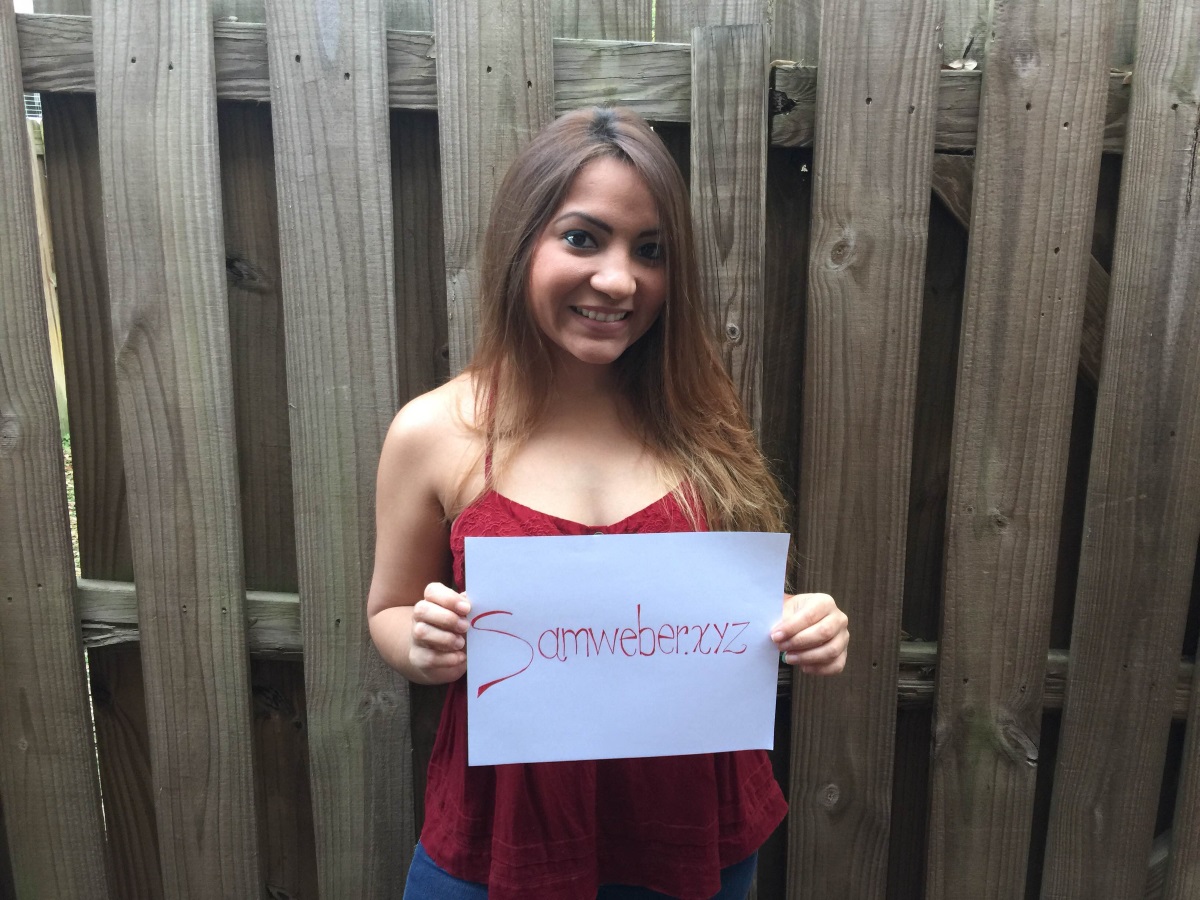 Ich sage es mal so:
Das hätte auch meine Oma knipsen können!
Aufgrund der durchaus positiven Erfahrungen mit anderen Photomodellen ist das keine 5-Sterne Leistung, sondern ein durchschnittliches Ergebnis, mit der Tendenz zu einer unterdurchschnittlichen Wertung.