Innenansicht: Tachoschrauber twstdprfctnsm bei Fiverr.com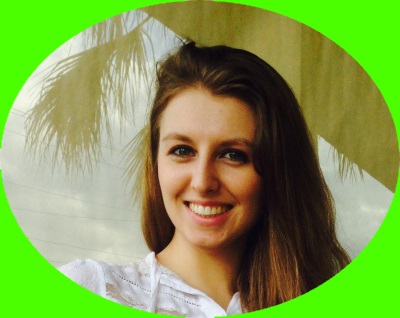 Na klar, wenn der Traffic schnell und hoch kommen soll, dann wird am Tacho geschraubt, sei es der Kilometerzähler  (der bekanntlich eine geringere Laufleistung zum Verkauf ausweisen soll) oder sonstige Ideen .. – Ziel: schnell viele Zugriffe auf ein völlig unbedeutendes Web (ohne vorhandene Websichtbarkeit). Um das zu erreichen, dafür gibt es genügend Gehilfen auf dem Billigmarkt (Lowcoastmarket like Fiverr)! Bitte sehr, hier ist ein williger Anbieter: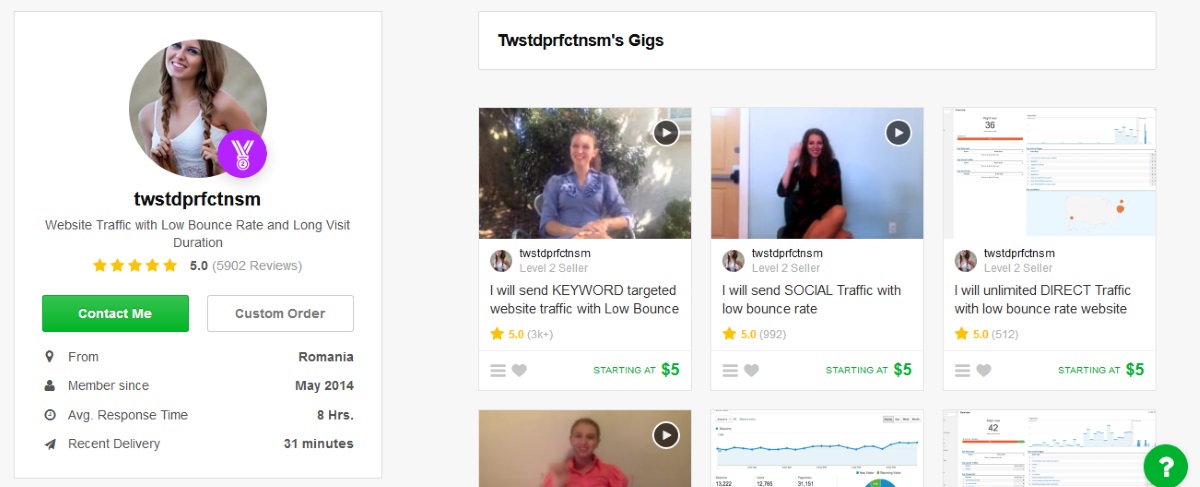 Er führt den unaussprechlichen Tarnnamen " twstdprfctnsm ", gibt sich als Rumäne aus und verzeichnet seit Mai 2014 fast 6k Bewertungen. Verwunderlich ist, dass sein Rating bei der Höchstzahl 5 von 5 Punkten liegt. Unglaublich! Die "arme" Christina (Qristina) muss für sein Marketing herhalten. Sie war als Fotomodell früher sehr aktiv auf der Freelancerplattform Fiverr, doch seit 2-3 Jahren ist sie nach einem Streit mit ihrem damaligen Ehemann von der Bildfläche verschwunden. Sie lebte seinerzeit in den USA.
Sicherlich sind twstdprfctnsm's Gigs gut geeignet, Besucherzahlen zu generieren und schöne Zugriffsstatistiken vorzuweisen. Das geht mit rudimentären "HTML" Kenntnissen genauso, dafür braucht es keine/n twstdprfctnsm!
Alle Käufer sind glücklich (5 Fiverr-Punkte) und nur ganz wenige Fachleute durchschauen die Gigs von twstdprfctnsm, wie dieser Nutzer:

So schreibt ein Fiverruser namens "mrgummy":
Yeah, definitely well-botted traffic, but not real. All IPs come from datacenters, VPNs, and proxies (you can check your Google Analytics, section Audience, Technology, Network). In fact, bounce rate has been 100% with zero or 1 second time spent, against the good promises given in the Gig. You can save your bucks, this service is worthless.
Alles klar, oder? Nachfolgend zur Dokumentation einer der Angebotstexte von twstdprfctnsm:
*** LIMITED TIME OFFER: 5% BONUS VISITORS FOR EACH $5 SPENT ***
KEYWORD TARGETED TRAFFIC with LOW BOUNCE RATE & LONG VISIT DURATION
Best Search Engine Optimization technique to improve your website's Organic Search Traffic, Search Engine Ranking Position and Alexa Ranking
Fully trackable in Google Analytics and safe to use with Google AdSense
BASIC GIG ($5) FEATURES (can be extended through GIG EXTRAS / PACKAGES):
1000+ KEYWORD TARGETED VISITORS PER DAY FOR 5 DAYS TO 1x URL
TARGET 1x KEYWORD on 1x SEARCH ENGINE: GOOGLE, YAHOO or BING
WORLDWIDE or GEO-TARGET visitors from: USA, EUROPE, ASIA or AFRICA
TARGET VISITORS PLATFORM: DESKTOP, MOBILE or MIXED
LARGE ORDERS get MASSIVE DISCOUNTS (please check Gig Extras)
Normal order processing: <48h (regardless how many Orders in Queue)
ExtraFast order processing: <24h (+$5)
OVERDELIVERY GUARANTEED for ALL SATISFIED CUSTOMERS!
????? 24/7 PROFESSIONAL CUSTOMER SUPPORT ?????
Questions? Custom Request? Please do not hesitate to contact me!
DISCLAIMER:
We provide REAL TRAFFIC through our LEGITIMATE Advertising Network
There is NO traffic exchange, bot, proxy, spam or blackhat method involved
We do NOT accept links which may lead to Third Party TOS violations