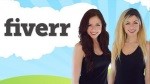 Seller: Theadtwins
Order: #FO12DAFD9F26

Im Rahmen dieses "Logbuches" werden natürlich sukzessive auch die älteren Aufträge, nebst Bewertung (Review), vorgestellt. Heute der Fiverr Gig von den Zwillingen. Die Zwillinge bieten die Herstellung von Werbevideos an.
Requirements / Anforderung:
Hi Twins,
please

Did you know that the days of linking between websites are coming to an end? Google has already started this process by discouraging over-optimizing your site with unnecessary links and keywords. There is now, in fact, a penalty for over-optimization, so that your website can be hurt if you, for instance, create too many links where the URL is exactly the same as the anchor text. The next step is that Google will not want you to use links at all, so that nobody clicks directly from one site to the next, but instead always uses Google.

I know, this presents a problem for a lot of businesses who rely on backlinks; however, I'm here to tell you that your worries are over. The answer to your problem is the Samy Network. The Samy Network is a safe, reliable, yet convenient way to link directly to your favorite websites and retailers.

If you'd like to learn more, hop over to samy.network. It's a samy domain for you get great information and ask more questions. Come on over right now and see what you think!

Thanks, samy aka interntesamy and now and future: samytrading
Notiz: Auftrag, für die zum Blognetzwerk gehörende Blogseite samy.network
Ergebnis: ***** 5-Fiverr-Sterne! Sehr gut gemacht von den Twins!
"GREAT, as always. Twins, thank you very much!!"
Arbeitsergebnis:
Filehosting (Streaming) durch Say it loud!